ATTENTION PEEPS! This is the many changes of drew's image.. from dorky-decent-stylish. (the alfro-do is just a prop. =p) did his highlights at ben's place.. gorgeos i say. *cool*
clockwise from the left - jason, neo and jia jie. the reason they are singled out here is becos, its rare to get their pics.. jason - being the straight A-s student, neo - doing a darlie ad.. haha. lastly, the smile that u are seeing now on jie's face is only a once-in-a-live-time thing..
east coast BBQ.. the one i mentioned where we barbercued through the night.. *introduction: the pic at the left corner is adam (a serious, nice guy) and nasreen (fun-living, cheerful all day 24/7).*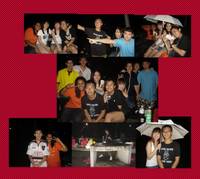 Saturday, December 25, 2004
old and new pics
just a few pics.. more to come. small items hence i didn't want them to be posted single form.. till then. ;)
Friday, December 24, 2004
tis the season to be jolly, fa la la la la, la la la la..
Merry Christmas everybody! in a cafe now.. having a cup of mochacinno. i have my 2 best friends with me. chong and jack. heres a hug virtually.. *hugz* ;)
tis is the yr where i know someone out there cares about me. its the thought that counts an't it? pressies are just accompanients. enjoy the hols peeps! drink and be merry.. till then. ciao~
Monday, December 13, 2004
Miscellaneous
- the new grilled chicky fold is simply wholesome! its almost the healthiest food after yoghurt in MacDonalds now. seriously. theres silvers strands of onion, lettuce.. a trace (really) of mayo and 2 huge patties of chicky meat. the flat bread is chewy enough for ya to wana get another bite out of it. i ordered the full meal and finished it off within mins. nice. a total change fr the usual fish-filets and nuggets. it cost me $5.90 in school. cheap for such a huge slap of bread and chicky. an extra $1.45 outside. go grab it now. no regrets. a-must-eat for sandwhich lovers. yummy.
- saw it on papers few days ago that theres a newly opened Giordano Ladies at Paragon Level 3. check it out gals.
- got to know some great gals at x:odus.. they are sidney, ivy, vanessa and edna. had quite alot of fun crapping and laughing till our sides hurt ;) while working at e store.. am really happy that i met u guys! *Big hug* (can't wait to see all of ya again.. till wednesday~) (i have no pics to illustrate due to inavailability of chong's parent's laptop and no pc at hm. hmmph.)
- found out last thurs that the darkest shade of blue for TYPE 1 Levis is out. no more coming in. damn. saw an ad outside the store at Taka. featuring a model wearing a red tab. looks tapered to me. shld check it out when i get my pay. u don't see much or shld i say any tapered jeans at Levis anyway. have been telling friends and colleagues that i can't seem to find the right pair of jeans. recommendations?
- hmmph.. got my 2nd sem's timetable. im still taking 7 modules. boring. have the same lecturers for comm skills, programming and french. no more html. c maths still on. *yucks* theres a new networking one, internet application and a IT innovation proj. someone help me. im gonna be in deep trouble again. *BIG SIGH..*
monday classes end at 2080. bloody hell. tues still the same. straight classes till 1800 with an hr lunch break. horrible school. =p the rest of e wk are still ok.
*quite contented*
Thursday, December 09, 2004
school hols 2..
1 more week till sch reopens.. i have been working since last wed at
x:odus
holland village. hence this late post. its pretty faraway.. 40 mins bus journey from my place to hv. transport fees are high.. oh well, its better than town. i don't like working in town. the crowd turns me off. =l
low down of doing sales is my thighs ache fr all those standing. (hee.. if anyone
of ya are buying me pressies, get me one of those leg soothing gel or scrub ya? fully appreciated. =) locations: body shop, origins, scholl, sally hansens.) plus lunch/dinner at work are often clogged with old chang kee's oily snacks... don't think im gonna lose any weight after all. =p
HOWEVER, one great perk about this job is i get to buy a maximum of 2 pairs of shoes per mth! Yeah! oh right! my shoe collection is definately growing. *pleased* hmmm.. other than physical gainings and torture, i quite like this job.
though, i don't think im cut out for sales.
the story is: i sold a pair of white ballet flats yest to a gal with her bf. its was a size 37. the last pair. she didn't mind taking it so everythings cool right? well, not really. i found out that the color was yellowish instead of pure white. e inner me yearn to tell her about it and offer to check other outlets for stock. but sid (my in-charge) was around. i didn't dare. whispering, i told sid about it. hoping that she will 'allow' me to tell the lady. apparently not. says sell it to them since she didn't say anything about it. ugh. so, with a tiny
guilty conscious, i took her $ and handed her the bag with a smile. hoping that she won't find out about the off-color and still come back.
i don't know about others. but, i feel that even though we are trying to increase sales and hit the target, isn't good customer service our priority to serve customers well and sell them stuff thats of satisfactory quality?
that they will still adore that pair of shoes even when they reached hm? or after several times of wearing? i mean, i can't tell them that : "oh, that pair sucks because i've worn that for mths and it still hurts like hell." Doing sales is such a hyprocricy job! i can't even overcome my own conscious. oh well, this job is all for the money. but, next time, if the same thing happen again, and sid isn't around. sue me but i'll definately tell.
also relieved yet glad that i got my $210 starbucks training pay yest. i can finally go for a small shopping spree! heading down to topshop wisma later to get a paisley top.. goody goody. hmmph. next on my list is a joss stone's mind body and soul cd, a pair of jeans (hopefully i can get and STILL fit into TYPE 1 size 27) or more, specs for outdoor wear, a pair of sandals and black heels fr x:odus and perhaps some highlights for my black hair. these will be all set for next months pay.. im waiting.
xmas is coming.. won't have extra cash to buy pressies for my beloved friends.. so sorry.. *apologetic* i can only give ya a big warm hug. any takers?
P.S: btw, can i know whos the anonymous person who wanted me to lend him/her Carrie Pilby? well, i've returned e book. You might wanna go check out any libraries in singapore. chill~