1290 presentation day..
Saturday, March 19, 2005
happy birthday!
Janey turns 20 next monday, 21st March. celebrated her bday at kbox this afternoon.. had lots of sweet birthday cake. fr River Gauche. went to a newly opened billard place at cuppage after dinner. new bluey tables and fat, round tipped cues. (thats what jie n andrew said). i kindda like that place. peaceful. not too crowded. not much underage peeps.. continuous mandarin hits churning out of the hi-fi. damn gd ones i say. a little on the expensive side. wkdays $8, wkends $9. for non-members. around there lah.. peak hr ba. not too sure.
*I will study for my exams. no more lazing and tv. appealing for 'tutors'. computing maths and OOPJV. anyone??*
@Kbox Cineleisure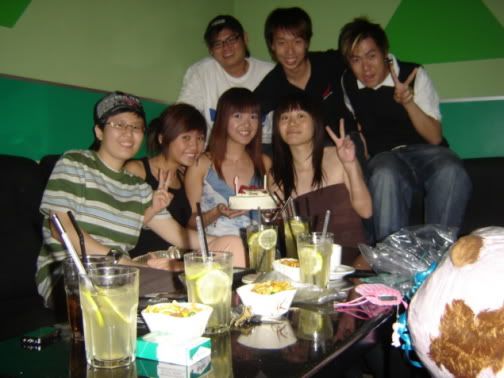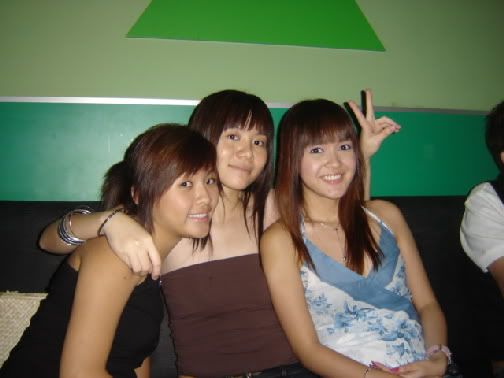 4 of us @Kpool. irvin, ying and gaen left earlier.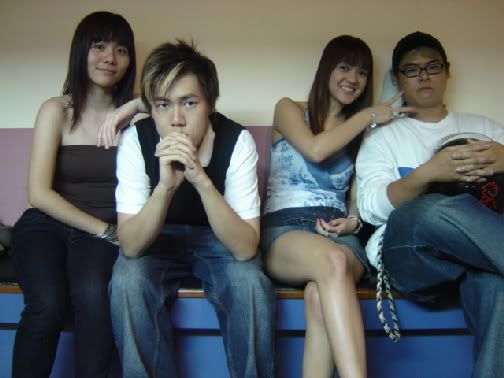 Monday, March 14, 2005
surprise, surprise!
Big news!
- i actually had a tiny bit of fun while debugging java swing codes last fri.. oh well, its only a small part. no biggy. hee. many thanks to kit. a yr 2 guy which nas n sharon introduced.
- Im starting to dislike my comm skills tutor. sickening women. keep picking on me ever since we did badly for our sem proj. Bloody Hell. Its not my fav subj anymore. *upset*
ATTENTION MUSHROOM LOVERS!
Check out mushroom foccacia bread from BreadTalk! (S$1.30)
Its an italian bread. i think. contains herbs and traced with olive oil. Sink your mouth into juicy button mushrooms and tomatoes while an unexpected dribble of mozzeralla cheese melts in your mouth.. savour and enjoy.. Mmmmmm. Yummy.
Downside : its a tad bland. If you spread some quality tomato puree on top (not tomato sauce alright!), I think it will taste really good.. hmmmm..
P.S : another similar one will be potato and bacon foccacia. have not tried that yet. details to be updated.
Nestle Fitness Low-fat Whole Wheat Cornflakes S$4 plus (approx.)
Simply fabulous. Its really CRUNCHY, doesn't turn soggy that fast like most cornflakes. pair it will Magnolia Low-Fat milk and it will be a wholesome and nutritious meal. ELLE says, grab some cereals junk food. lightens the calories and fat.
Downside : a little pricey for cereals but, its an indulgence and we gals need low-fat stuff eh? ;) sugar is found in it. not too gd if you have it everyday.. so i wld say, have it in moderation i guess. oh well, healthy muesli grains and nuts tastes horribe. so i'll pass.
Cheers Nestle.
P.S : even janey says its good. get it now. =p
Wednesday, March 02, 2005