new & old .. *smiles*
Wednesday, July 26, 2006
Lovely, oh lovely !
Sunday, July 16, 2006
childhood
Saturday, July 15, 2006
To view the 2 posts below. Right click.
Go "Encoding" then "Unicode (UTF-8)".
我不懂。我一点都不明白。不了解。
有时,我真的好想大声哭一场。
我们怎么了?
Thursday, July 13, 2006
如果的事
我想过一件事 不是坏的事 一直对自己坚持
爱情的意思 像风没有理由轻轻吹着走
谁爱谁没有所的对与错 不管对与错 不管时间
说着我们在一起有多坎坷
我不敢去证实 爱你两个字
不是对自己衿诗 也不是讽刺
别人都在说我其实很无知 这样的感情被认定
很放肆 我很不服我还在想着那件事
如果你已经不能控制 每天想我一次
如果你因为我而诚实 如果你看我的电影
听我爱的CD 如果你能带我一起旅行
如果你决定跟随感觉 为爱勇敢一次
如果你说我们有彼此 如果你会开始相信
这般恋爱心情 如果你能给我如果的事
我只要你一件如果的事 我会奋不顾身地去爱你
第一次听到这首歌时, 我发现我喜欢他。
Wednesday, July 12, 2006
Fashion will never be a passe.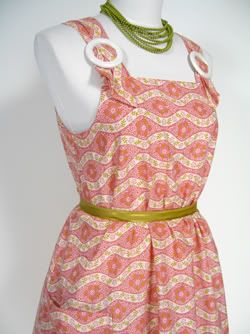 IS THIS PRETTY OR WHAT?
Its fabric, prints and of cos the cute white plastic shoulder straps!!! ooooooooohhh.. Im so in love with vintage dresses right now.. they practically swept me off my feet. Really. This is a 60s sun dress from ripe vintage and its sold out! *devastated*
Click on pic to view their site.
They have stuff that you wish you could buy them all.. i like the
Sera minidress
too.. but bust 32" is a little too small. i didn't know my boobs weren't the smallest. Oh wells, recently i've been browsing
A Dress A Day.
The blogger makes her own vintage wears and it rocks. the stuff that she has.. her posts.. Now, im blogging the way she always do. with a picture of a dress. -.- Oh no. she makes me feel like sewing up my own dress too. Damn it. Anyways, i particularly love these quotes that she took from Belle Armstrong Whitney. someone who wrote about what women should wear.
"There is no reason why when we go shopping we should take what is set before us to take, providing the standard of what is set before is common, and our standard is higher."
"Every woman who buys poor fabrics helps to discourage makers of fabrics from producing better ones. Every woman who buys ready-made clothes that are vulgar in design, helps to increase that type of designing. Every woman who buys ill-made garments, assists in adding to their number."
I think i will go borrow that book. Cheers
Monday, July 10, 2006
i just woke up not too long ago. dinner not on table so i ate some ruffles. world cups over and everythings all back to normal. no rushed off late nights. no supper. no excitment. suddenly it all seemed unreal. ha.. im mad.
Victoria Secrets has arrived! But the sizes are kinda wrong.. sigh. the ups and downs of overseas shipping.. *shrug*
guess what. dad just called. i forgot its mum's birthday! God.
we saw this poor dog who was being tied to a lamp post outside Hello! Orchard Starbucks where his couple owner enjoyed cuppas inside. seriously. i felt sorry for him. what kinda of owner leave ya all alone, or like benji said, 20 m away? if i had my cam, u guys wld have seen how sad he looked. though agitated after he was put further away. (initially it was at the door)
i had a lovely wkend. in short, it was peace for benji and i. hahahaha.. anyways, we have been giving our hard-earned $ to harrys@esplanade whos
definately
earning much more then us. DUH. i love sitting at the bar. e bartenders, e famous soccer goals, leaning in towards him where he will automatically do the same.
it feels almost as if its the most natural thing to do
.
i've also made a pt to try all the cocktails on the menu!!! Who wanna join me? ying? *grins* Paul Ponnudorai is ok. but his base or treble (i don't know which is which) notes are too unbearable for us to sit at the bar and listen to him. Cheers
Benjis usual antics and our favourite spot just at the bar.
Sunday, July 09, 2006
Zouk
Tuesday, July 04, 2006
4 names you go by:
*gracie
*grace
*kinghan
*qinghan
4 things that scare you:
*snakes
*huge lizards
*loss of ability to smell
*to drown
4 of your everyday essentials:
*eye concealer
*contact lens
*pc at sch/home
*my bed
4 things you are wearing right now: (Its 3.35 am for god's sake!)
*old sleeping tweety bird tee
*shorts
* -
* -
4 of your favorite bands or musical artists (at the moment):
*anna nalick
4 favorite songs (at the moment):
*anna nalick - Breathe (2 am)
*lifehouse - breathing
*sandi thom - lonely girl
*lamb gabriel - I can fly (tre metri sopra il cielo)
4 things you want in a relationship (other than real love):
*lots of hugs. big, warm ones.
*understanding
*honesty
*simplicity
4 truths:
*i wash my clothes after 2/3 times of wearing
*i love sushi
*i simply adore american sitcoms. they are awesome
*i think too much
4 physical things that appeal to you (in the opposite sex):
*boyish-cute-yet-mature
*with some muscles. 6 pack not needed
*comfy shoulders/arms for me to lean on
*neatly trimmed nails.
4 of your favorite hobbies:
*read a gd novel thats hard to put down
*indulge and appreciate the fineness of food
*shop till my hearts content
*watch my favourite hallmark/star world/hbo
4 things you want really badly:
*happiness
*fuss-free life
*grades good enough for me to graduate
*lose the round tummy and shape up that flat butt!
4 places you want to go on vacation:
*france
*spain
*all pretty beach resorts
*london
4 things you want to do before you die:
*find happiness
*have a bob cut
*travel around the world
*whats it like to bungee-jump
4 ways that you are stereotypically a dude/chick:
*i look in the mirror for ages before heading out
*i get caught by the green-eyed monster all the time
*i yearn for hugs and kisses
*i procrastinate all day long about having a tummy and i do nothing. (don't we all gals? =p)
4 things you are thinking about now:
*food
*a bath (its damn humid)
*zzzzz
*still zzzzz
4 stores you shop at:
*topshop
*still topshop
*far east shops
*online sites
4 people who should do this:
*benji
*mich
*janey
* -
i keep forgetting to do this.. since im awake. might as well.