A reminder once in awhile..
SELF - RELIANCE
lose ur heart. not ur head. don't ever forget.
Tuesday, January 24, 2006
"Longing"
Thoughts on him every single hour. min. second. millisecond.

*Kiss goodbye*
Thursday, January 19, 2006
J U V E N I L E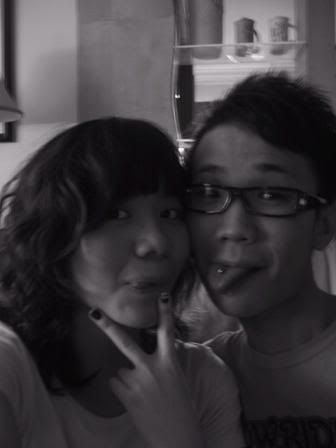 Wednesday, January 18, 2006
simplicity
so when u turn to hide your eyes' cause the movie made you cry
thats when I love you I love you a little more each time
and when you can't quite match your clothes
or when you laugh at your own jokes
thats when I love you I love you, more than you know
and when you forget that we had a date
or that look that you give when you show up late
baby I love you
I love you anyway
cause heres my promise made tonight
you can count on me for life
thats when I love you
when nothing you do can change my mind
the more I learn, the more I love
the more my heart can't get enough
thats when I love you when I love you no matter what
no matter what
Tuesday, January 17, 2006
Illness
depression (UNHAPPINESS)
noun
1 [U] a feeling of unhappiness and lack of hope for the future:
I was overwhelmed by feelings of depression.
2 [C or U] a mental illness in which a person is very unhappy and anxious for long periods and cannot have a normal life during these periods:
Tiredness, loss of appetite and sleeping problems are all classic symptoms of depression.
I think i have mild depression. Mood swings. Irritability. "Moping around". Inablitity to concentrate. Memory Loss. Sadness. Crying alot. Unenthusiastic about school. Pessimistic about life.
oh well. above are some of the symtoms of depression in psychology. On the bright side, at least, i dont feel suicidal, have poor self-esteem or hallucinations. =p i considered myself still sane.
Treasure
I see the me in her. the
past
. the yearning. and i wept.
but, its just empathy.
im happy. :)
Monday, January 09, 2006
Understanding.
Does humans need to understand in order to love?
Can love exist without understanding?
Even if we feel truly blessed in the presence of each other?
Yet, companionship doesn't seem to be enough. we yearn for more.
Contentment - oui, non?
*ponders*
Wednesday, January 04, 2006
A Day Out
Ben & Jerrys @ United Square.
Say Aahhhhhh...
Ying's express main fr Polished Diva @ Bugis Village.
See mine in real person.
cheeze!!!
Tuesday, January 03, 2006