1193 Project
Im so stressed up from this project thing!!! im on my own now.. in e lab. going crazy.. on e phone with janey.. trying to decide how to settle e web-design thingy.. UGH. being e group leader is tough! its so hard to tell ur friends what to do where tensions arise and awkard situations occur. nobody wants to stay back.. all rushing hm.. its a bloody project for god's sake! u are supposed to do projects tog! not individual man.. ARRRGH... and i gotta stay back cos i don't have a pc at home! f***ed up! *dying*
Tuesday, August 24, 2004
sick
i was feeling like shit yest. cried, vommited and clogged the sink i think. couldn't help it. felt tons better and class ended. a big thankyou to cher and aini who bought sour skittles for me n janey gave me a comforting hug too.. hmmph. dad fetched me home and i had a gd slp.. *being sick is sooooooooooo awful* ugh
Monday, August 23, 2004
Life and its ups and downs.
this is another late submission of blogs.. met chong on fri for dinner. jack wasn't around cos he went hm first due to the long waiting hrs while waiting for us.. it was raining bloody heavily that day.. can't stand it. anyway, i waited for him for an hour and a half at delifrance ps.. we sat there and talked for quite awhile as both of us were too tired to walk around.
we then decide to check out the movie listings and just as expected,
the queue is bloody well long! its almost as of those bunch of pple have never seen a movie bef like that. *crazy* (no offence if you were in there.. ) we dwiddled around and settled at ezone.. that was the fun part of that day.. we played "house of dead2", chong is bad at it.. we tried to overcome this stage where this irritating alien keep flying around and we have to shoot it in order to prevent a particular "orgr" fr attacking us.. theres also some shark-shooting game.. its a pretty silly one but i thought the gun thing will vibrate from prev experience at marina.. but this machine doesn't! ITS SO NOT FUN at all! the last one was e "bashi" thing loh.. i conclude that both of us sucked at that. haha.. oh well, i had fun.. but felt guilty that jack wan't there with us.. haven't go out with him for quite some time... hmmm..
stayed hm on sat. dad started the quarrel thing with my mu again. about the " u-know-what" problem.. sigh. forever, never-ending. the same questions over and over again.. im so sick of it.. they might as well get over and go seperate ways. bloody hell.. i dont' give a damn anymore. perhaps i might feel otherwise if "it" really happened, but right now, its heck care attitude nw.
erm.. was quite pissed at mich for the whole week as mich promised me that she will lent me her pc for me to do my html proj.. but she delay the appointment again n again.. lots of reasons n stuff. i don't wish to go into details. (for ur info, e proj is finally completed on the 20th of aug which is the due date.. really appreciated all the help that my classmates have given me.. especially, janey, ying, aini, cher, andrew, adam, neo. -special thanks to those pple who stayed back and taught me stuff that i do not know about.. u know who u are.. thnks alot pple!) oh well, i met up with mich on sun as shes really really keen on going shopping. didn't really want to see her cos i was still fed up on her attitude and stuff.. but after meeting up, i told her about it and ok loh. shes kindda forgiven. =i (u better dont' do it agin mich.)
we went to esplanade lib to study and i ordered latte and she, hot cocoa. i didn't study much as all i did was read thru the french dialogue in my text.. oh yah, i got an upset stomach from drinking latte again! UGH.. its the 3rd time liao.. whats wrong man.. my friends say that its a gd laxative for me since i've constipation.. haha.. but diarrhoea for prolonged is bad man.. and i love latte! its not too sweet like mocha, not that bitter as espresso.. just nice for moi.. hmmph.. do i really have to change my taste? oohhhhh... oh right, i bought 2 pair of earrings from SIX @ citylink too.. *so happy* got new earrings to wear.. one is silver with a "crystal" ball on it, and the other one is bright yellow! both are hoop earrings.. e latter one is bloody retro man.. it didn't looked that bad on its on but when i tried it, it BIG. can't wear it on both sides or i will look like someone fr the 70s, 80s era.. have decided to wear it on one side. yah.. its queer. janey says that im trying to act stylo.. but its my style.. hehe.. (took a pic of it but can't post it nw.. wait till i go to chong's place.. soon~)
kk.. i know im bombing e whole blog.. can't help it. haven't blog for days.. okey dokey, so long folks~ ciao
Saturday, August 14, 2004
oh gosh. THIS IS GORGEOUS! Its a pair of dangling earrings from x:odus.. they have other range and stuff.. most of them are precious stones. that was what i was told.. this pair cost $50 plus loh! bloody ex. (Im DEFINITELY getting one when i have e $) so long.

my fav pic!!! that cat is absolutely adoreable!! im gonna receive that cat for xmas pressie.cos chong has said that he will buy for me!! its only 20 bucks anyway. haha. (or sooner i hope. hehe.)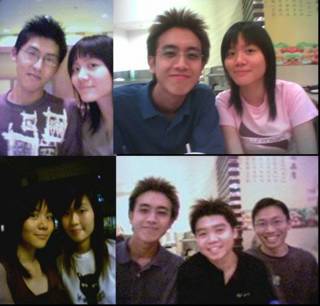 my friends.. the one on the top left corner is chong! on the right is jack! these 2 are the ones that i always mentioned.. haha.. 2 gd friends of mine that has stood by me for the past years.. e pretty gal beside me is mich! my best budd for years.. have gone thru thick and thin.. known each other inside out. my little 'sis'. :) really appreciate all the things that have done for me. (lent me a listening ear/, accompanied me when i need someone around, gave me advice and encouragment when im in lost..etc.
(to jack: must take care of urself ok? dont' make us all worried about ya again.. to mich: u know im always here for ya. dont' keep everything to urself k? its no good.. take gd care of urself girl. to chong: thanks for all e advice u have given me.. thou i will still be 'beating' ya on e chest cos i can't do that to jack anymore.. n im glad that u have tone down ur crappy ways. haha =p alas, guys: a big thank you!) n *big hug* for ya!
2 other guys, darren n yuwen are secondary skool friends of ours. hee..

aren't the clouds beautiful?? (n i meant those huge ones lah. haha) guess where the 2nd pic was taken? cool eh? i like the cute little cloud hanging there..=p

pics taken during school hours.. too many. so i've picked some cool ones. the 4 gals on top are janey, ying, aini n cher! my girl gang in school.. =p enjoy~

Wednesday, August 11, 2004
new job and more...
i received that important call from starbucks yest! training starts late aug.. i will be working at the raffles city branch.. *happy* hmmm.. im back at the same working place again. (prev i was working at basement jap restaurant for a mth or so..) told mich about it.. but she wasn't very pleased i think. don't know why.. i know the pay sucks but i really like starbucks! i mean, which waitressing job aren't tough? its all the same sia..
oooohhh.. good news! sharon is coming back.. finally. on the 16th aug. so excited.. and i will be looking at her sis's new born baby when i go over to her place.. =p kk...gotta go do some work liao. later
Monday, August 09, 2004
movies
Went to watched "The Village" at lido last fri. . see synopsis at
shaw
.
thoughts: girls will get scared from the 1st half hour.. (guys are not moved at all. just the first 15 mins for chong) however, halfway down the film, u will realised that theres nothing scary at all!!
its not at all a horror film.. more like a brain- twisting one. "The Village" is something out of "The Others". similar pattern.. have no words to describe it. go watch it if you
really really
got nothing better to do and have tons of $ to waste.
oh, i managed to catch "A Walk to Remember" on HBO last night.. it was such a sweet film.. loved mandy moore's songs.. this is a quote that i took out from it.
"Love is like the wind. You can feel it but cannot see it."
true an't it?
me at chong's place nw.. using his pc to do my assignments.. thanks alot c! oh and i scored really badly for my french assignment.. think mr dider lame will faint when he see my results. =p
Thursday, August 05, 2004
stressed!
im lost. confused. stressed. behind time. theres a html test tom and i haven't study yet. im now about to start on e frontpage of my 10-slides proj. ugh. i've absolutely no idea how to go about it.. the whole lab is just me and 3 other pple.. *sigh* this is just e 5th wk only.. how am i going to carry on for the rest of my school days? hmmm.. i gotta stop skipping lectures fr nw on. someone remind me ma. oh great. im all alone right nw.. die.. *frown* i've moved to lab537/538.. not sure.. cos the lab i was at is closing. hmmph.. bless me. later
Tuesday, August 03, 2004
days of my life..
nyp had initially blocked out blogger so i couldn't blog. now that all has been restored back, (thnks to whoever who did it) i can update my blog again! me at lab nw.. waiting for programming class to start. oh well, ALOT of things have happened for the past few weeks..
today is already week 5 of e first semester. time flew by quickly man.. im struggling with schoolwork, programming n html. *sigh* jack's lung problem acted up 2 weeks ago.. went for an operation and is now resting at home.. =l *i want him to get well soon.. hate to see him in pain.* hmmm.. datelines to be met.. french assingments, projects etc.. *frown*
some nice things that have happened, i bought my new phone! a x70.. $313 after trade-in. pretty cool except that e camera is lagging already due to to much pics (i've been taking alot with my gang! =p).. hope it doesn't spoil so soon as chong told me that his friend whos working in panasonic says that theres always a complaint bout x70's camera daily.. *nervous* bought 2 new tops. a peachy-pink and white one.. fr fcuk n topshop respectively.. spent $75 on them. very very broke nw.. i know it sounds like the usual, but sadly to say, this is e truth! Im way below my budget for my pc.. don't know when will dad gimme the $ for it.. =i
cher and i also went to catch the fireworks at e esplanade last sun.. we didn't catch much but that little bit of it was spectacular~ *in awe* i actually manage to take a pic on my ph n it looks like an explosion! haha.. Also, i've realised that my arms are getting saggier! think its due to those old muscles.. haven't been working out for mths! think it has all turn to fats. ugh.. i gotta buck up ya.. oh, gtg.. class starting.. sickening java.