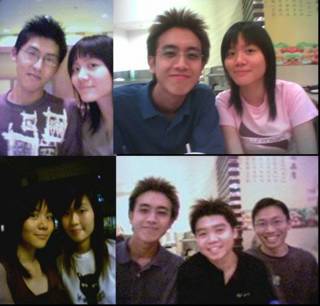 my friends.. the one on the top left corner is chong! on the right is jack! these 2 are the ones that i always mentioned.. haha.. 2 gd friends of mine that has stood by me for the past years.. e pretty gal beside me is mich! my best budd for years.. have gone thru thick and thin.. known each other inside out. my little 'sis'. :) really appreciate all the things that have done for me. (lent me a listening ear/, accompanied me when i need someone around, gave me advice and encouragment when im in lost..etc.
(to jack: must take care of urself ok? dont' make us all worried about ya again.. to mich: u know im always here for ya. dont' keep everything to urself k? its no good.. take gd care of urself girl. to chong: thanks for all e advice u have given me.. thou i will still be 'beating' ya on e chest cos i can't do that to jack anymore.. n im glad that u have tone down ur crappy ways. haha =p alas, guys: a big thank you!) n *big hug* for ya!
2 other guys, darren n yuwen are secondary skool friends of ours. hee..