Fashion will never be a passe.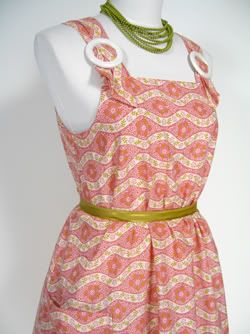 IS THIS PRETTY OR WHAT?
Its fabric, prints and of cos the cute white plastic shoulder straps!!! ooooooooohhh.. Im so in love with vintage dresses right now.. they practically swept me off my feet. Really. This is a 60s sun dress from ripe vintage and its sold out! *devastated*
Click on pic to view their site.
They have stuff that you wish you could buy them all.. i like the
Sera minidress
too.. but bust 32" is a little too small. i didn't know my boobs weren't the smallest. Oh wells, recently i've been browsing
A Dress A Day.
The blogger makes her own vintage wears and it rocks. the stuff that she has.. her posts.. Now, im blogging the way she always do. with a picture of a dress. -.- Oh no. she makes me feel like sewing up my own dress too. Damn it. Anyways, i particularly love these quotes that she took from Belle Armstrong Whitney. someone who wrote about what women should wear.
"There is no reason why when we go shopping we should take what is set before us to take, providing the standard of what is set before is common, and our standard is higher."
"Every woman who buys poor fabrics helps to discourage makers of fabrics from producing better ones. Every woman who buys ready-made clothes that are vulgar in design, helps to increase that type of designing. Every woman who buys ill-made garments, assists in adding to their number."
I think i will go borrow that book. Cheers